French opera diva Emmanuelle Zoldan fully entered metal scene relatively recently — just two years ago, replacing Spanish singer Ailyn as a lead vocalist of the Norwegian symphonic/gothic metal band Sirenia. And in this short period of time, Emma managed to convince everyone in her professional competence in the genre, having done a truly tremendous job. Beautiful, charismatic, bright and recognizable, she managed to win many metalheads' hearts and declared herself as one of the most powerful vocalists of female — fronted metal.
Right before the Sirenia's brand new album "Arcane Astral Aeons" release shows in Moscow and St. Petersburg, MetalGossip had a talk with Emmanuelle, and the she shared her opinion about the new album, explained how she takes care of her voice, told us how she copes with some haters' negative, and much more.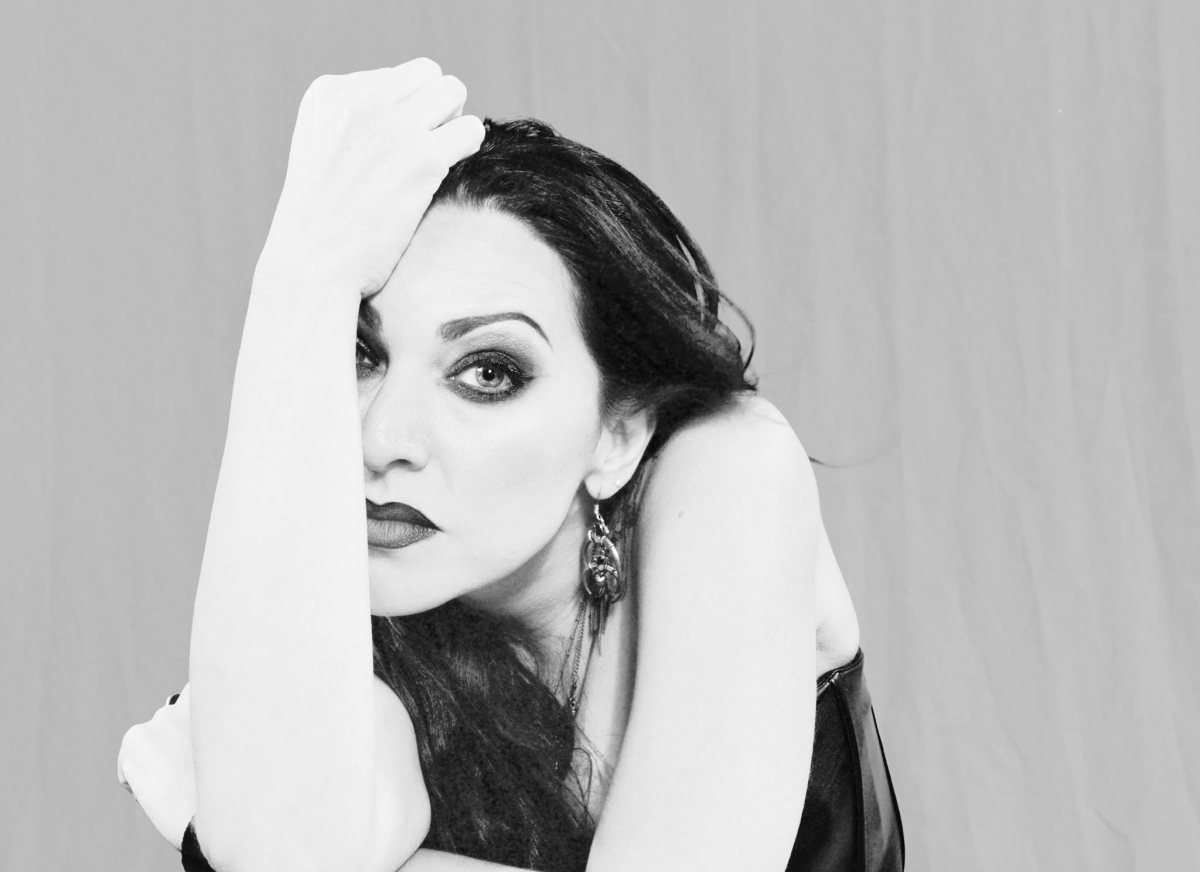 MG: It's been almost a year since MetalGossip talked to you last time in Mannheim. Emma, for you, what was this year filled with?
Emma: Well, it was a very busy year with a lot of cool projects; we played in Norway, opening for "Dracula", we played in Malta, we did the metal cruise with 70 000 Tons of Metal,  we toured again in the US, played for the awesome festival "Summer Breeze" in Germany, and of course, we worked on the new songs and recorded the new album  "Arcane Astral Aeons". I also had some nice Opera productions too.
MG: Did you take part in creative process for "Arcane Astral Aeons" – writing French lyrics and composing vocal lines to the songs? Or did Morten do everything by himself as ever? 🙂
Emma: Yes, on this album I took part in the creative process of the album, writing the French lyrics on "Nos Heures Sombres" and "Desire", and proposing the vocal lines on "Nos Heures Sombres". Jan Erik and Nils also took part of the creative process, playing really cool solos on the album.
MG: How can you characterize the new album – its mood, style and so on? In what way does it differ from "Dim Days of Dolor"? Are you satisfied with the result?
Emma: If I have to compare, musically "Arcane Astral Aeons" is definitely more heavy than "Dim Days of Dolor"; It's a powerful and variated album, catchy from the beginning to the end. I really love it. The process was a bit different for this album; and another guitar player joined us on the line up, Nils Courbaron.
For "Dim Days of Dolor", everything was almost ready when I officially joined the band, only the voice was missing on the recordings. The deadline for the album release was very short. We recorded my voice on the songs in only some days. That was really exciting and it will stay a fantastic experience, but I probably would have loved to have more time to go trough the songs. For "Arcane Astral Aeons" it has been totally different. I had several months to listen and think about the songs, how I wanted to sing them, and during the recordings we took the time to try different things before chosing the versions we prefered. Morten was always open to my suggestions, me to his ones, we shared our feelings on the songs,  that was a real pleasure to work together. It has always be through all these years. (since 2003!). The album is perfectly written for my vocal range this time, so it was easier for me to play with the vocal effects and versatility, whispering, chest voice, operatic voice etc… I think on this album, each of us in the band felt more artistically involved, participating at the creative process on some parts was a very nice thing. The complicity between all of us that we built tour after tour brought something I think.
MG: What is your favorite composition from "Arcane Astral Aeons" and why?
Emma: Wow, that's a very hard question…hard to make a choice…but as I have to…:-) maybe "Glowing Embers"? Love the guitar intro, the choirs part and all the variety of parts and in this song.
MG: Whose idea was to bring Yannis Papadopoulos from "Beast in Black" into collaboration with Sirenia?
Emma: I think it's Nils; He worked with him some times ago. When we heard his voice, I think each of us immediately loved it!
MG: It was the first time that Sirenia worked with French photographer Béranger Bazin and the photo shooting took place in Marseille. Tell some words about this work. What do you think of the result? Is it important for the band to make cool promos?
Emma: Béranger did a great job. Of course cool promos are important for a band, this is the first image people have from us, and it has to show the personality of the band, the atmosphere of the music  at first sight, what is not easy to catch I think. We did the shooting in Marseille, and that was really cool to have all the guys in France for once. We ended the journey eating French cheeses and good wine at my place what was cool!
MG: Is there any song that you would like to make a cover with Sirenia?
Emma: We already did a cover of "First We Take Manhattan" from Leonard Cohen many years ago, on the Sirenia's EP "Sirenian Shores". It was in 2004.  That's a nice memory. Recently I did one of Metallica's "Nothing Else Matters",  not with Sirenia, only me for fun 🙂 I like to do it sometimes but I prefer creation. I'm not sure if it's in Sirenia's plans to make a cover…
MG: What song from earlier albums do you want to sing live?
Emma: "Save Me From Myself" and "In Sumerian Haze" contain this dark gothic atmosphere I love in earlier Sirenia. I think it would be a good thing to include this kind of songs to the setlist. We worked with Morten on an acoustic set for the Pledge campaign, and we planed to play these 2 songs. I' m really glad about it!
MG: Emma, I know you've been playing the main role in recently in Oscar de Manuel's "Danse avec Carmen". Can you tell us about this project and the idea of combining Bizet's opera and flamenco?
Emma: That's a fantastic project with fantastic people in it. I have loved to work with Oscar de Manuel who did the arrangements, Juan Conchillo the stage director and all the team, singers, musicians, dancers, actors and technicians. Only nice, talented, and humble people. This show is a mix between Opera, flamenco dancing and also acting theater. It's an interesting approach that makes opera more accessible to every kind of  people, even kids and people not used to go to the Opera. The Flamenco brings the soul of Spain, crazy rhythms, and the dance is really beautiful and sensual.
MG: As far as I know you annually participate in Offenbach's Festival in Bruniquel. This year you performed "Geneviève de Brabant" with Franck T'Hézan's troupe. Can you tell a few words about it? It's a quite French thing, not familiar to the Russian audience.
Emma: I sing in this troupe since 2010, it became a kind of "second family" for me, and I'm always going there with happiness. My kids are acting and singing in the choir also so it's the blessed period in the year we are together H24 making music and theater 🙂 This Festival is specialized in Jacques Offenbach's (1819-1880) French Opera-bouffe repertoire, it mixes opera singing and acting. Most of the time it is a kind of "comic" operas, parodies of the sentimental themes used in great Opera, so it's never serious, always funny and satirical, even if the music is really amazingly beautiful and as rich as in Opera. In "Geneviève de Brabant" , the action takes place in the middle age and the characters are totally wacky and remind the humor of the Monthy Pythons. I love it. We laughed a lot.
MG: What are your plans for next opera performances? Is it hard for you to combine being an active opera singer and a metal band frontwoman? What is the main difference for you between being an opera and a metal singer?
Emma: We are going to tour with the "Carmen Flamenco" project, probably in Spain and America and some other Opera performances are in negotiation right now. (fingers crossed!) Yes of course it is hard to combine Opera and Metal performances; In Opera, you always need to make auditions, not to be forgotten by the Opera Directors;  This year, we toured a lot with Sirenia, so I didn't really have the time to make auditions for Opera; It looks that Metal is taking a bigger place in my artistic activity and I'm happy with it; touring is something very important for me, and we have the chance to tour more than ever these times, what is fantastic. I love the concept of a band. As a team, all together. The psychological pressure is not the same; In Opera you're alone and it's not always easy to manage with it.
In a technical aspect, it is not easy  to move fast from a technic to another. It's  a bit disturbing when you just finished a metal tour and you have to sing Opera the day after. Singing in a microphone is totally different than using natural acoustic and voice projection. It needs adjustments every time to accustom the voice to work again in a way or another. It can be tiring, so it's important to be extremely careful with it.
I can say that one thing I love in metal performing is the contact, the proximity we have with the crowd;  people are singing with us, jumping, sometimes they bring us delicious cakes, what the fan give to us when we are on stage is really priceless.
MG: Some metal fans react painfully when the certain changes in the band's line up come. And some of the comments can be rude and hurtful. Emma, how do you manage to deal with pressure and negative comments? Do they hurt you a lot?
Emma: From the beginning I knew that the replacement would create a storm; I thought about it again and again before answering positively to join the band. I knew that replacing a singer who already has her fanbase is not the same than when you сome with your own band and songs. In some people's head, you're taking someone else's place and you are the one to kill, even if they don't know anything about the circumstances of the replacement; From the beginning I knew there would be comparisons, criticism, what is absolutely normal in my opinion. But I decided to accept it as an understandable reaction, and do my best to do my job with all my heart what is the most important thing; I don't feel hurt, I just try to do my best to understand…And forgive.  It's only reactions of hurt people… I prefer focusing on music, for these who support me and encourage from the beginning! I receive more love proofs than hatred so that's what I keep! 🙂
MG: Some years ago you took part in a project when you had to sing a cappella on an aerostat. What are you impressions of singing a piece of Carmen in the air? Was it hard or scary a bit?
Emma: …How do you know that!? haha!!! Yes…I did it…why? I don't know!!! The challenge…It was totally insane… That was hard and scary, and the landing was absolutely rock and roll, but we laughed alllooooot.
MG: I've noticed that such a tendency. When an opera singer comes to a metal band, many fans immediately start to compare her to Tarja. What do you think of such comparisons?
Emma: Even if I think each voice on earth is unique, and has its own personality, I think it's normal people compare . There's no doubt Tarja can be considered as a reference in the genre!
MG: There're lots of female-fronted metal bands nowadays. Some of them have really cool and highly professional vocalists. Emma, in your opinion who is the coolest female vocalist in metal right now?
Emma: Right now there is a lot of really good female vocalists in metal; of course as a classical singer I like the classical way Tarja uses her voice, but I also love Sharon den Adel and, in another genre Cristina Scabbia from Lacuna Coil for example.
MG: Recently we've had some discussions in MetalGossip social media public considering "serious" and "not serious music". There's the opinion, that, for example, such music as Nightwish, Sirenia and so on is just "pop-music with distorted guitars and simple melodies", it's not serious, and at the same time, for example, Tarja's music can be considered to be "a serious one", because it's "more complicated". Emma, do you agree with such approach? Where is the line between "serious" and "not serious" music? How one can define it? Are there any criteria for that?
Emma: That makes me laugh a lot… Come on, Music will always be music, who can tell what is "serious" and what is not, and what "serious" really means? Even in classical music people absolutely want to classify the genres, declaring this one is the absolute opera perfection and this one is sub-genre. Why? Music speaks to the heart, if this genre doesn't speak to you, it doesn't mean it's not good, or not « serious » it just means it doesn't speak to you, so I would say to these people who claim they hold the truth about what metal HAS to be: just move your way if you dislike this genre and listen to another one…(that's very simple :-))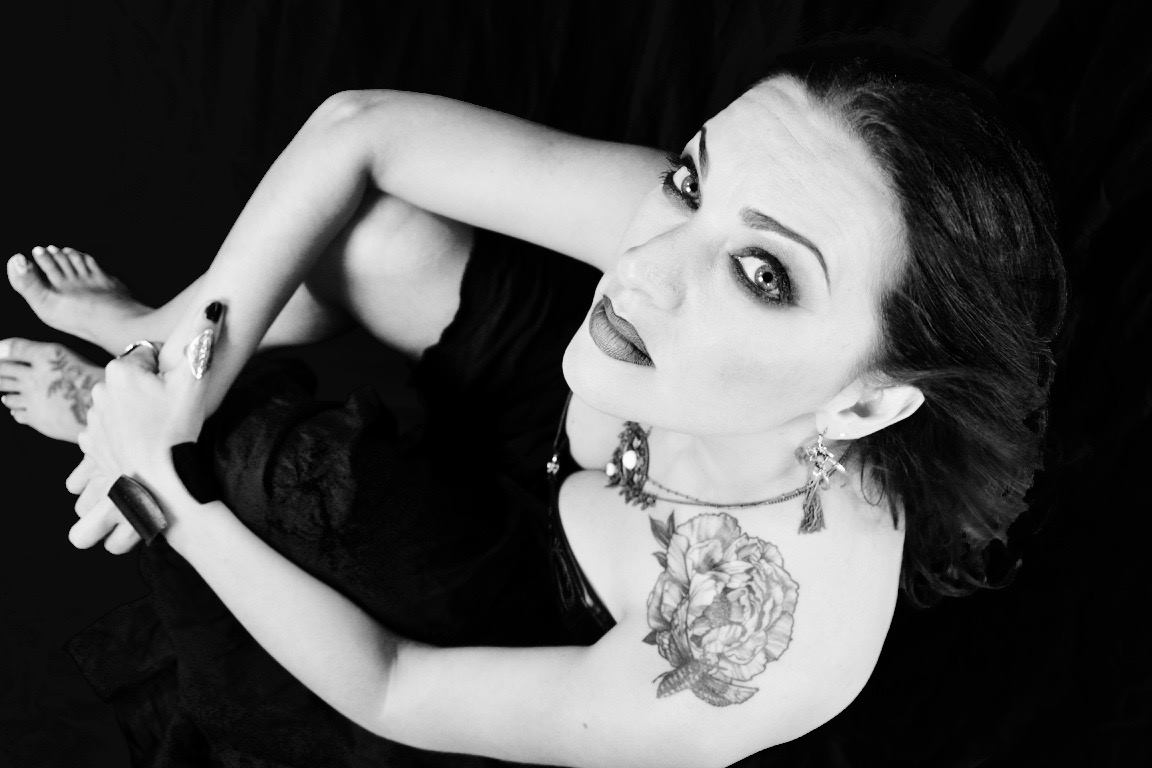 MG: Do you consider yourself as "metal diva"?
Emma: Of course! …Where is my champagne bath? 😀 Let me think about it…No. Maybe there is one or two Divas in this band (maybe 3) and it's not me. haha!
MG: How do you care about your voice, especially during tours?
Emma: I have learn a lot about my voice with touring with Sirenia. Touring with a metal band is way different than in Opera. We have to sing every evening during 3 weeks what is a lot for the chords if you sing strong and loud every show. So, it's important to be extremely careful and manage with the power of the voice. I learned, tour after tour (after some bad surprises!) to preserve my voice in trying to have also a good sleep (what is the most important thing), warming gently before every show with precise exercices , drinking a lot of water and tisanes, avoiding to speak too much before and after the shows and I stopped smoking. It's not always easy because, as you know, in tour you're always tempted to party….:-) But it's the rule if you want to preserve your voice and a good health 🙂
MG: What is your advice to singers, who are forced to perform being sick?
Emma: It depends which kind of illness they have…some illnesses  prevent us to make a sound, and there's nothing to do but cancelling… We all are scared about that…! That's the worst scenario but sometimes we have no choice. Some singers take cortisone to save some important shows. I don't recommend that.  You'll be able to sing but you'll not feel your chords and will force on it taking the risk to destroy them. The day after and for the ones to come you'll be 100% voiceless… But most of the time, when the virus is not paralyzing the chords, we can save the situation: drinking a lot of water and not speaking for hours before the show, taking C vitamin, inhaling water vapor, going to bed as early as possible before the day of the show and after the show, and the best recipe ever, the witch tisane with: hot water, slices of lemon, fresh ginger, cloves, thym, erysimum and honey.
MG: How do you see yourself in 10 years?
Emma: An older  version of me but always making music and painting (while drinking good French wine 🙂
MG: Name please your personal pros and cons of being touring singer.
Emma: PROS: Being on stage, spending time and having fun with the band family, meeting the fans and other bands is the best addiction ever; discovering other cultures, food and countries is a fantastic chance I appreciate a lot.
CONS: Being far from home and family is of course never easy, and touring can be physically tiring .
MG: Last year it was your first visit to Russia. Tell us please about your impressions of our country. And also some words to Russian fans before you come again with your two release shows. 🙂
Emma: That's a fantastic memory for us and we are looking forward to be back again very soon! The crowd was amazing and most of the fans we met were very cool and friendly ; they brought a lot of present to us, Russian food, chocolate, dried fish and Vodka, and I remember the amazing cakes you, Metal gossip, offered to us, with pictures of us on them! They was delicious! 😉
We are happy that the release shows will take place in Russia, (St. Petersburg and Moscow) we can't wait to be there and play some of the new songs for the very first time especially for our Russian fans! Looking forward to see you there!
Photo: Hervé Brouardelle