The French opera diva Emmanuelle Zoldan is not a newcomer in metal. In the year 2007 her mezzo-soprano added some bright colours to the studio album of «Trail of Tears» «Existentia», and before that she participated in vocal recordings for Turisas «Battle Metal» in 2004. However, Emma has tied herself to the "heavy genre" more seriously by working together with Morten Veland and his project Sirenia: we can hear her voice in the choirs on all the band's albums, except for the first one.
And now, after the invisible presence in Sirenian Choir lasting for 13 years, Emmanuelle has got an opportunity to demonstrate her skills as lead vocalist of Sirenia. And she keeps doing it with confidence, presenting her own vocal interpretations of Morten's songs to the audience.
In an exclusive interview for MetalGossip, the new «Siren» talks about the importance of professional education for the vocalist, about the difficulties she faced when coming into metal, about her favourite opera parts, her family and much more.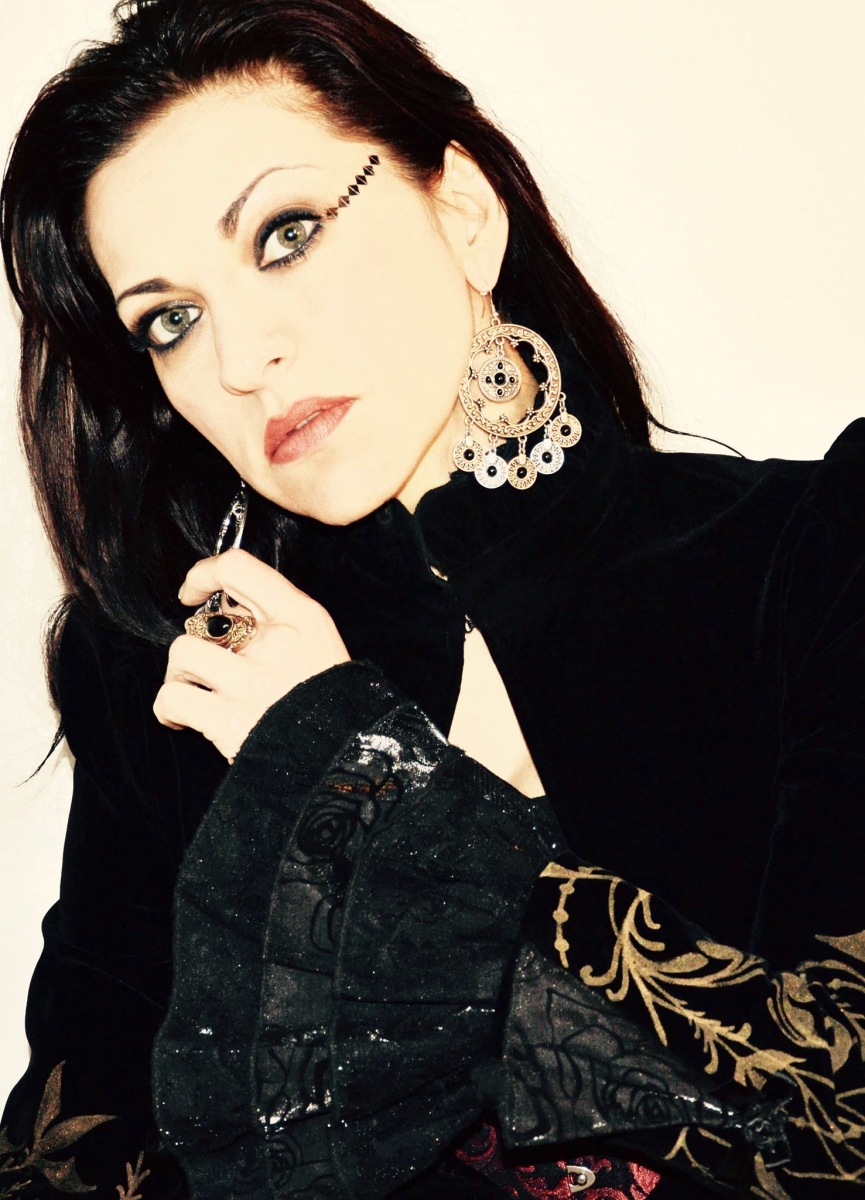 MG: Emma, tell please about your musical education. Is education important for the vocalist (first of all in metal and non-operatic genres I mean)?
Emma: I learned vocal classical technique at the Conservatory  for 4 years, 2 more years in the International Opera school in France and one year of specialization. In Opera,  education is very important, It's almost impossible to sing Opera without technique. On stage, an Opera singer  has to sing without microphone, only using the natural acoustic of the theaters and the most of the time he has to rival a philharmonic orchestra  (sometimes more than 100 musicians). That's why we have to learn to project the sound without pushing the voice or it can be definitively destroying for the vocal instrument. And acquiring a good technique in Opera is very long and demanding. It's not exactly the same in the other genres; In Metal, Rock or Pop, a lot of talented people are able to sing perfectly without education, just building their own technique around their feelings and sensibility. Singing in a microphone doesn't ask the same effort. But what is undeniable, is that in every kind of music, Emotion is the most important thing. A singer can have a good technique but sing without soul.  Education has to be a "plus" that  helps to preserve the voice in being  perfectly conscient of what to do with it.
MG: Do you think singers trying to use «operatic» vocal in metal must be judged the same way as singers in opera?
Emma: Of course not. The conditions are not the same. In Metal it's more the esthetic aspects of the operatic voice that is researched, than the performance like it's asked on an Opera stage. The requirements are different. Technically in Metal, even if you use an "operatic colour" in your voice, you don't sing the same way, you have to adapt to the microphone captation, the effort is not the same. In Opera we have to sing a score and to be perfectly faithful to what the composer wrote, to the musical style and tradition. There's absolutely no place to improvisation. In Metal, the singer who uses his operatic voice has more freedom in the interpretation.
MG: When did you realize you wanted to become a singer?
Emma: I always sang, since I was a child; My father is a musician and my brother and I grew up "musically thinking"! He gave us both the love of music, and I think I was born with this strong desire of being a singer.
MG: Why did you choose precisely opera singing?
Emma: It was not a choice at the beginning, more something like an "unexpected thing". Singing Pop/rock was my first choice, what I wanted to do all my life; I was singing and writing songs in a band, but as I wanted to learn technique, to understand better how the voice works , I decided to do it in a serious institution, that's how I naturally came to the conservatory. This year, there was no more places in the singing class I was looking for (Jazz/rock class) but they proposed me to try the classical one, not to "lose" one year. It was not my choice but I accepted, thinking  learning was the most important thing. I never listened to Opera before. At home since my childhood we listened to only pop/rock music so it was absolutely new for me. I began to study and I really began to love it. Madly. I finally stayed one year more…and one more… and one more…I made 2 more years in an Opera school and one year more of specialization; after that, professional opportunities came fast and that's how I moved away from my first projects of Rock music and lived an unexpected but really exciting experience with Opera.
MG: Emma, the Italian school of classical singing is a technique of bel canto. The German one makes an emphasis on the endurance. And what are the particular qualities and characteristics of the French school of singing? As we know, many beginners are advised to go studying in France.
Emma: The French school can be a synonym of elegance; it puts a great importance to pronunciation, articulation,  the sense of the lyrics is very strong . Acting and speaking parts have a big place too in French Opera, especially in "Opéras-comiques"  and  "Opera-bouffe".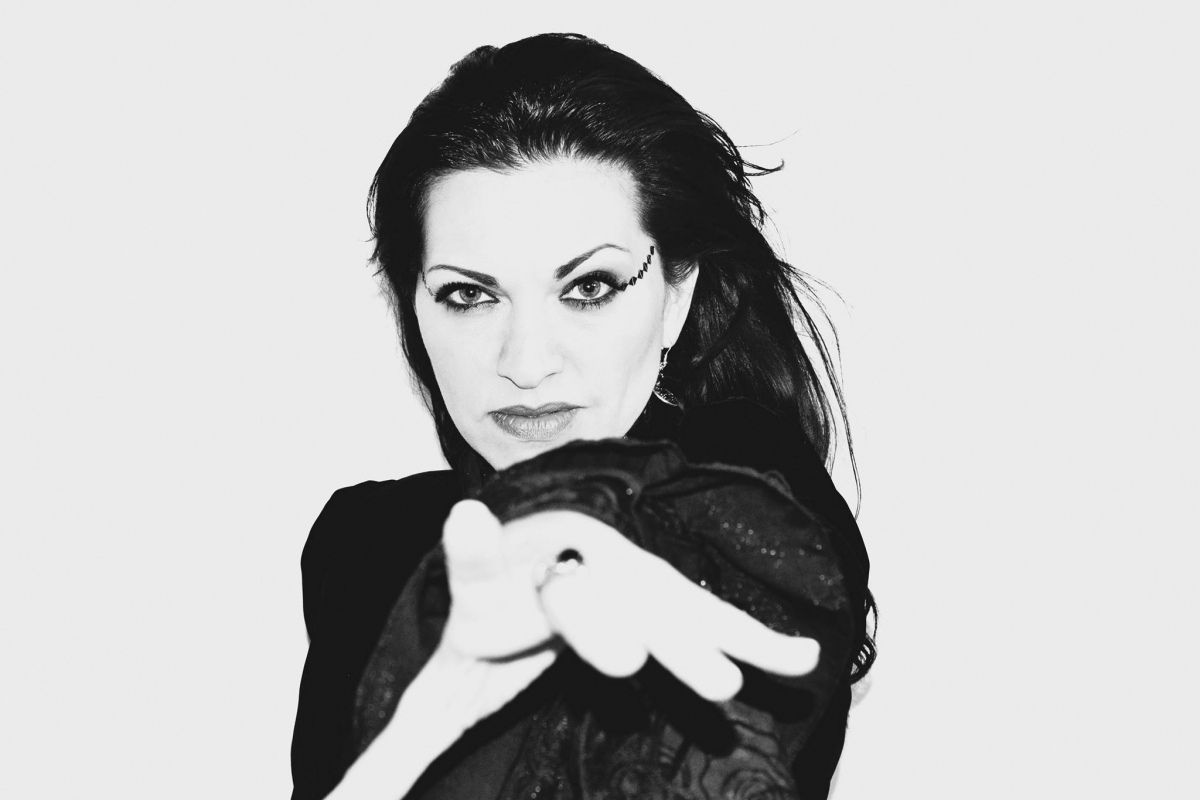 MG: Being an experienced opera singer with a good career you've become a lead vocalist of one of the most famous gothic metal bands. So I think you can give an answer to the eternal question: what is harder to sing – opera or metal?
Emma: It's difficult to compare because the conditions are not the same at all; singing in a microphone is totally different. More easy technically. You don't need to push, even a simple breath can be heard by the back of the crowd.  Singing Opera is a challenge of endurance, more close to an athletic performance…We have to sing, to act, to be extremely focused on the score  and it's a real physical effort that some scientists compare to a marathon. After such an effort  an Opera singer needs to recover after every show. Touring in Opera as we do in Metal, singing every evening for 20 days or more is absolutely impossible for an Opera singer. Some days off are needed to recover. In Metal, the microphone is our best friend, a great comfort to preserve the voice during all those gigs.
MG: What did you feel before going out on stage for the first performance with Sirenia? Did you feel nervous or confident?
Emma: It was a mix of excitement and fear! I had such a short time to learn the songs (12) , and we just had a quick rehearsal just before the show, so it was a big challenge for me. Feeling perfectly comfortable in singing new songs, moving and  having a great complicity on stage with a band takes time; The first gigs are never easy, for nobody, confidence comes show after show! Now, after a first tour with the band, I feel much better with the songs and I became more close to the guys. It's a really nice feeling, because we feel that we improve together more and more every show. I'm looking forward to the next tours for that!
MG: Emma, you've got a really splendid operatic mezzo soprano that brings nothing but admiration. Do we have a chance to hear you singing in operatic manner on future Sirenia's albums?
Emma: Thanks for the compliment :-). I cannot answer this question now, I suppose it will depend on the atmosphere of the new songs.
MG: Besides Sirenia, you used to collaborate with Turisas, Larage & Damiani, Trail of Tears (your vocal work on the album "Existentia" is just perfect!). Whom of the musicians (of any genre) would you like to work with in future?
Emma: I like unexpected surprises in music collaborations; challenges are what I really like. The most exciting experiences I had were in genres I couldn't expect at all! That's why, even if there're a lot of artists I admire, I prefer to let life surprise me. 🙂
MG: Back to opera 😉 Every singer has a kind of "dream role". Do you have one? Or maybe you've already sung it?
Emma: "Carmen" is the typical  Mezzo "dream role" that every singer hopes to sing one day;  I had the chance to sing it on stage and I hope to sing it again and again because it's an amazing Opera, extremely rich in a musical and dramatic plan in which I feel perfectly comfortable. A big part of my engagements are concentrated on Offenbach's heroines, I'm proud to say that I have sung almost all of the ones I dreamt about on stage. It's a wonderful repertory I love to sing. Among my "dream roles"  there are "Charlotte" in Massenet's "Werther", "Isabella" in Rossini's "L'Italiana in Algeri", Saint Saën's "Dalila" , and of course, dramatic powerful roles like "Eboli" in Verdi's "Don Carlos", "Comtesse de Bouillon" in Cilea's "Adriana Lecouvreur",  "Amneris" in Verdi's "Aïda", but those roles are roles of maturity; I've already had the opportunity to sing Amneris, and even if it was a bit early for me  at this moment to sing such a difficult and loud role, it was a wonderful and magical  experience I still dream to sing again with more maturity!
MG: As far as I know many singers come to coaching activity after they finish their career, some start to do it earlier. Do you have plans to devote some part of your life to training young singers and sharing your experience?
Emma: Transmitting is a wonderful thing, sharing experience is a duty; it's also a great responsibility. The voice is not something simple, sometimes it takes time to find the right way, it's important for a coach to be  available for the singer; For now, I don't have enough time to do it but when I stop my career I probably will put myself into helping the others.
MG: Emma, have you ever had an idea of starting your own band where, besides the vocals, you would take care, for example, of lyrics, conception, etc.?
Emma: Of course, it's a project I have since several years; I never stopped to write music and lyrics, it's something important in my life. I'm still working on it, and I hope to make the project possible soon.
MG: You've been working with Sirenia for a long time, so have you (you and Morten) discussed your joining the band before?
Emma: Not really because I was really focused on my classical career at the beginning of our collaboration and  Morten knew that it was complicated at that moment for me. Now it's different, it's a freedom I can take more easily.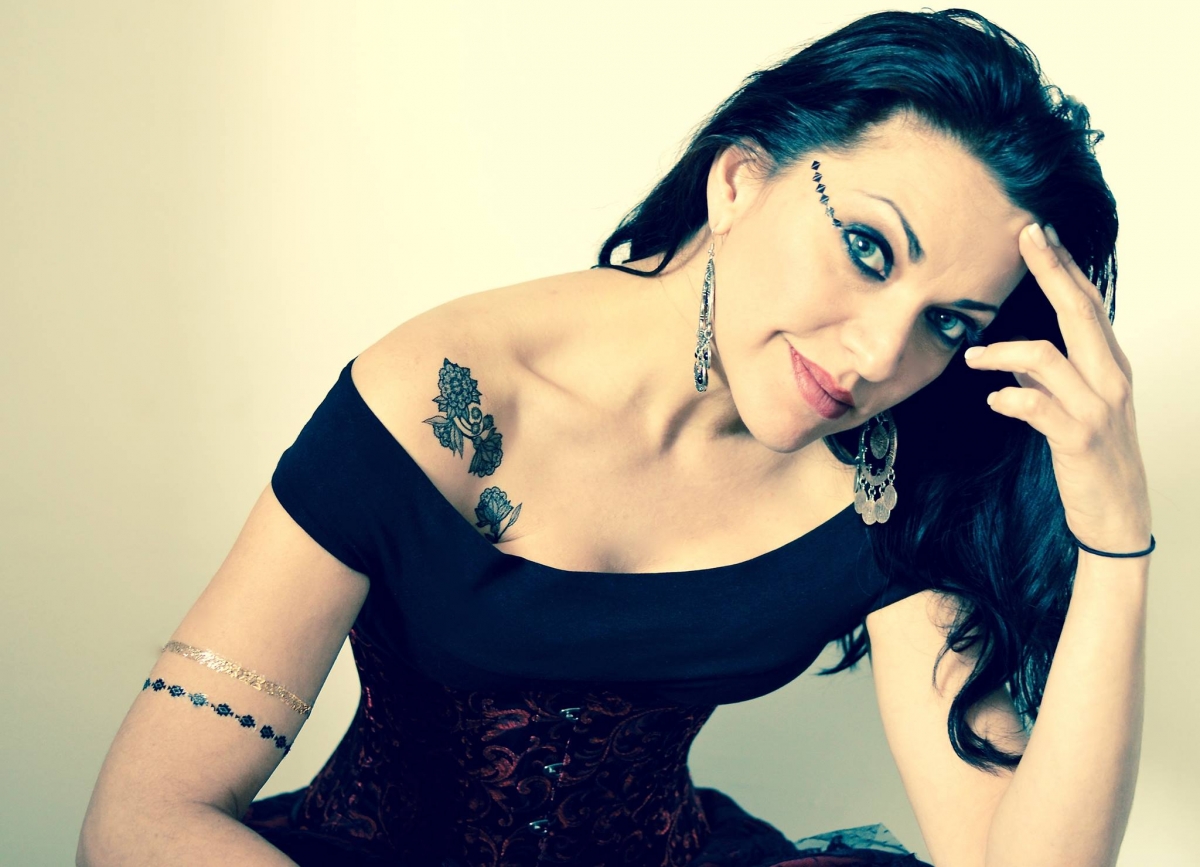 MG: What are your favorite Sirenia's songs for performance and which are the most challenging for you?
Emma: I really love to perform the new songs , "Ashes to Ashes" is a really nice song to perform on stage,  "Treasure'n'Treason" too.  But I also appreciate to sing catchy "more old" songs like "Path to Decay", "The Other Side", "Lost in Life" or "My Mind's Eye". The most challenging songs for me are the ones too high for my range like "Seven Widows Weep".
MG: As a professional singer you have a very responsible approach to your work in metal band. And tell please, what were the main hardships you had to face with in Sirenia? Was it harder or easier to sing metal on stage compared to your expectations?
Emma: Of course the most difficult thing was to be accepted as the new singer of Sirenia; It's much more easy to convince when you're the first singer of a new band than when you replace a singer who is here for 8 years and has a lot of fans. Singing metal on stage was not so easy in the beginning because as I said, I needed time to find my place in the band and to adapt my voice to the songs.
MG:  Some singers in metal (including ladies) drink alcohol, for example, when they are on tour. And what about you? Do you afford sometimes a couple of beers after the show or do you exclude alcohol totally? How it affects the voice?
Emma: Not especially on tour, but in life in general, I appreciate good wines (I'm French!) and having a drink with friends or family takes part of a collective pleasure I love. I don't exclude it totally on tour, but  it's important to be extremely careful with it, because the temptation of the "fresh good beer" is every day, everywhere, all the time! You need to be  in a good physical condition to sing every night for 20 or 25 consecutive shows, and of course drinking too much alcohol is not the best choice for the voice health…
MG: Morten Veland is Sirenia's mastermind and he does everything by himself and makes all decisions. Is it hard for you to work with Morten? Does he listen to your advice and your opinion considering vocals and manner of singing?
Emma: Working with Morten has always been a pleasure for me since the beginning in 2003. He's absolutely not someone close minded, in the contrary, he always listens and stays open to suggestions. He's extremely patient. I think he's someone who knows exactly what he wants, and for me, that's a quality in music; I can easily understand that composing music, having everything in the head, all the details of all the instruments in the ear,  knowing exactly how the music has to sound, involve sometimes to work alone; I know what it is to feel the need to make everything by yourself, I'm absolutely not the one who can blame it because I work the same way…:-)
MG: Tell us about doing vocals for "Dim Days of Dolor". Was it hard for you to adapt these songs for the possibilities of your voice? Are you totally pleased with the result when you listen to the album?
Emma: I was a bit anxious in the beginning because the songs had been written for Ailyn's range, not really in the range my voice brights the best. But finally, we found some compromises on some parts for the songs fit better with my voice. I'm finally really happy with the result of this album, even if I know my voice can sound much better and interesting in the range that is mine. It is rather positive because it leads to predict beautiful perspectives for the next album!
MG : What is your favourite song from "Dim Days of Dolor" and why?
Emma: Really hard to say, all the songs are so different, each one having its own atmosphere and brilliance… My preferences evolve every day on this album! In the beginning my favorite song was "Goddess of the Sea", yesterday it was "Ashes to Ashes" and today it's "Elusive Sun". I think I'm not really able to chose, it's a question of mood 😉
MG: It happened to be so that in female-fronted metal the important thing is not only how you sing but also how you look like on stage. Your stage outfits are amazing, especially your leather  "small black dress". Are your outfits always your own choice or does someone help you and give advice?
Emma: I like to make my own choices, make them myself or customize them, painting on them or gluing things on them, to make them unique. Before everything outfits and stage shoes have to be comfortable, it's very important to be concentrated only on the music when you are performing!
MG: Emma, tell us more about you out of Sirenia, in common life, and about your family. What books do you read, what movies do you watch, and on the whole – how do you prefer to spend your leisure time?
Emma: Family is extremely important for me. I have the chance to have a very present family supporting me and I know that's a precious treasure. I have kids too. Having kids was something I didn't want to sacrifice for my professional life. Even if it's not always easy to have a stable family life when you travel for work, family stays a balance, a concrete link to real life.
My leisure time is always full of artistic things. I spend my time creating things, painting, scarving, writing music and lyrics more than reading or watching movies. Being creative is a daily vital-need for me. I also love Nature and animals, I love to walk in the woods with my dog to find inspiration.
MG: Do you have a female singer who is a kind of idol and example for you?
Emma: In Opera, the Russian Mezzo Elena Obraztsova is one of my favorite singers, also Marilyn Horne is a big idol for me. But in Metal and other music genres the truth is most of the singers I appreciate as idols are male singers…:-)
MG: And the last question… could you say a few words to your Russian fans?
Emma: I know there're a lot of Sirenia fans in Russia, and I'm looking forward to come for a show with the band to meet them.
I have to say that I'm a big fan of Russian culture, music,  and I madly love Russian Opera composers, like Rimsky-Korsakov,  Stravinsky , and of course the great Tchaikovsky is one of my favorite Opera composers.
Photos by Hervé Brouardelle