Norwegian metallers Sirenia will present their eleventh studio album in less than a month. It became a good tradition for us to speak with Emmanuelle Zoldan prior to the new album release. Read about "1977", solo album, relocation to rural area in our exclusive interview.  

MG: Emma, traditional question: please tell us more about the new Sirenia album. What can we expect? Is "1977" continuing the ideals and music direction of "Riddle, Ruins and Revelations"? How would you describe its style and writing process?
Emmanuelle Zoldan:  "1977" is a very varied and melodic album that explores a new style, infused with 70- 80's vibes. It's a dark album, with symphonic hitting and catchy melodies,that is nevertheless still faithful with the Sirenia sound and soul. The mix has been done by HK at the Vamacara Studio in Paris, who did an amazing job!

MG: Does the album have any concept? What are these songs about, united by the mysterious (not!) date "1977"?
Emma: It's not a concept album. I would say that « 1977 » is a wink to this time we grew up though, rocked by this special sound.

MG: Seems like it can become a good tradition for Sirenia to make cover versions of famous old hits and release them as bonus tracks. What song would you like to record next? Whose decision was it to make Tanita Tikaram cover? Was it a mutual decision or was it Morten's choice?
Emma: I have no idea yet what will be the next cover. I don't know if Morten already thought of it. Covering Tanita Tikaram's "Twist In My Sobriety" was a Morten's proposition that we validated right away. This dark and melancholic song has rocked our childhood and it was nice to tribute it in our way.
MG: Does Sirenia have any plans for the tour with the new album? If yes, will it be a European tour only or, maybe, do you have plans to go to North America again or China?
Emma: We're working on tours to promote the new album from this fall. It is impossible to say where exactly for now but we really hope to go back all over the world again!

MG: How was the work on the new album going? Did Morten compose everything alone, or did you participate in writing the vocal lines?
Emma: Morten is always writing and composing the albums for Sirenia, the vocal lines as well. We don't really have a role in the creative process but we're ok with that. Sirenia has always been Morten's soul, at what we add our personal «colors» in terms of interpretation.
MG: What about The Sirenian Choir? Did the choir take part in recording of a new album?
Emma: I know that some people will complain about that but unfortunately the choir didn't take part of the recording this time again. Even if we recorded in Norway for these two last albums (The Sirenian Choir was used to be recorded in Marseille at sound suite studios) I guess it's a decision of trying something different as well, exploring new possibilities.
MG: Tell us more about the new video "Deadlight". The locations in it are stunning! Where did you shoot the video? And who has come up with an idea for the story in the "Deadlight" video?
Emma: We worked with the very talented Cecilie Delpoїo that is a video director but a singer and artist as well, so her sense of art and esthetic is very sharpened. She wrote the scenario around the theme of  «denial», and the video has been shot in France, in the castle Burrus Renaissance at Sainte-Croix-aux-Mines, at "Live factory" and the drone shots in beautiful Normandie.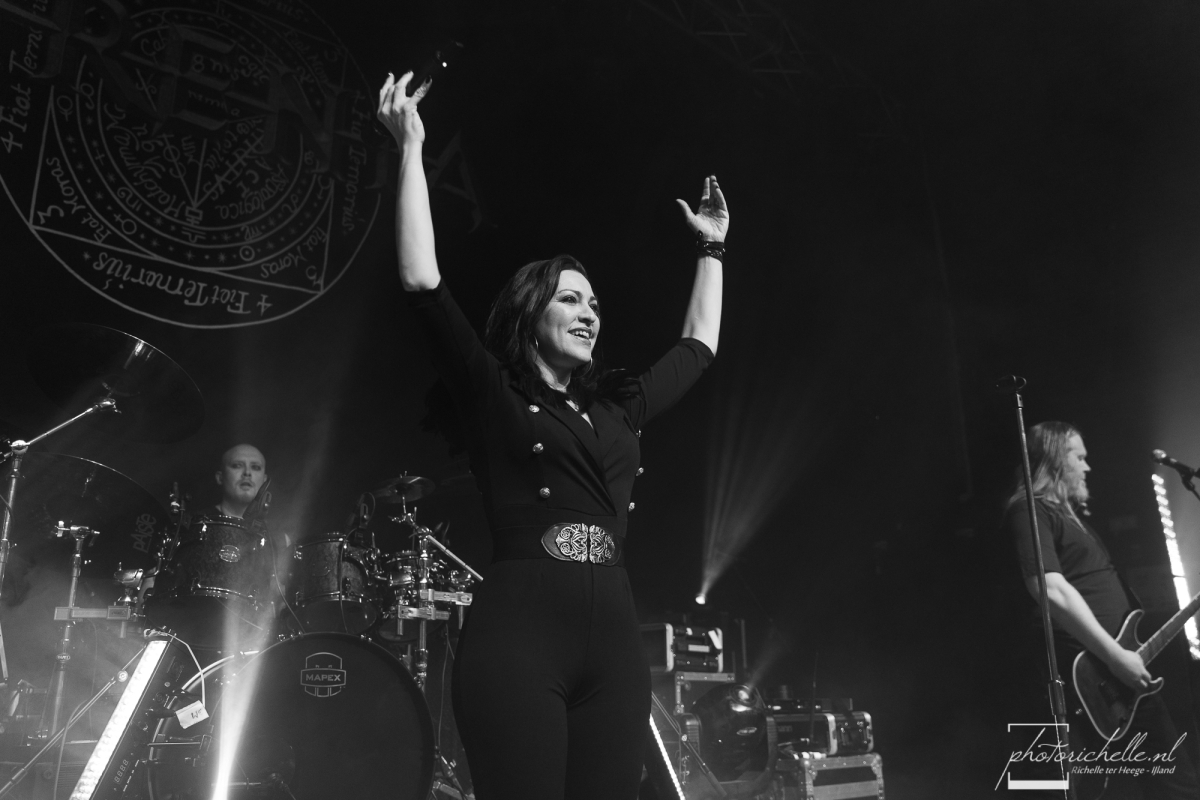 MG: You participated in the 70000 Tons of Metal cruise this year. Tell us more about it. Have you watched other bands' performances? Maybe you've heard the Nightwish set?
Emma: It was the second time for Sirenia, and an amazing experience this time again. Well, it's hard to describe how fantastic it is. Beautiful boat, locations, people, good music, food, well, four dreamy days aboard. Unfortunately I didn't have the occasion to catch the Nightwish set for schedule reasons… This time, we played extremely late in the night (I would say early in the morning!) and I absolutely had to rest and sleep before the show to be in shape for singing so I missed their 2 shows.
MG: Emma, tell us what your life is like in between album recordings and tours. As it shows in your social media, are you interested in farming recently?
Emma: Haha, yes I recently moved from my previous house to live in the countryside. I have always dreamt to leave in the nature, having only for neighbors ravens and horses! It's a very inspiring place where I really love to be and work. I love the idea of cultivate a vegetable garden, take care of the trees, I had to learn because it was very new for me but I really enjoyed it!
MG: What about your career in opera? Do you have any plans to take part in any new opera performance? Or maybe you are already participating in one?
Emma: After Covid, I have to say that the engagements have become more and more rare for 3 years, a lot of companies I was used to regularly work with had to end up for economical reasons, so it was very rude for some times. It looks that the situation improves a bit these last times, and contracts begin to come back. I have some opera shows in May- June, a production of Offenbach's «Blue beard» in a French festival this summer, Gounod's "Mireille" and Bizet's "Carmen" next fall. That's all for now, but I'm waiting for other confirmations.
MG: We haven't heard any new cover versions from you for a long time – but both Queen and the rest of the covers were very good. When are you going to release a new one?
Emma: Thank you, glad you liked it. Well…I have a lot of cover projects on the way, but always lack of time…I have high hopes to find the time to seriously work on them asap.

MG: Talking about covers. All your previous works (not including the Sirenia covers) are songs originally performed by male singers. Do you want to record a cover of some famous female fronted band — Nightwish or Within Temptation in the near future?
Emma: Yes, that's true! ( I didn't really pay attention to it!) I'm not sure if I will choose a song from the symphonic metal scene to be honest; I believe that a cover is interesting if you give a totally different approach to it . As a female fronted singer, covering another female fronted singer doesn't really make sense in my opinion. I would prefer to pick up a very different repertoire, and deliver a very personal version of it.
MG: Do you consider making a solo album? Floor Jansen, for example, has already made her debut with solo material…
Emma: Yes, absolutely, It's been a while that I'm already working on a solo project. 12 songs are almost done, I hope to be able to share them in the next few months. Fingers crossed.

MG: It's been 7 years since you joined Sirenia. And with the release of "1977"; you will have equal numbers of full-length albums with ex-vocalist Ailyn, whom many fans still considered as the most "useful" one. And now, after all these years, what can you say about your participation in the band? Are you satisfied with what you have achieved as a lead vocalist in metal music and Sirenia? Haven't your expectations been deceived? Were you not disappointed? Do you plan to continue with the band and in the genre?
Emma: Yes, time flies…. I have taken every day of this collaboration as a gift from life from the beginning. I feel happy with the team, the friendship between us, the music we do together and every tour we did is still a fantastic memory. But the Covid period probably curbed us in a moment we were just about to take off, with amazing tours planned that finally have all been canceled…It has been very disappointing because we lost opportunities that never came back again until now. The actual situation is very disappointing too, a lots of things changed in touring functioning, and it became hard to keep the faith to be honest. So, of course, our plans have been deceived in some ways, but we're not ready to surrender for now, and keep the hard work until better times!
MG: As we know, you have received a certificate of art therapist. Tell us how you are doing in this sphere? Have you already started practicing? What are your impressions from this profession?
Emma: Yes, I came back to studies for two years after the Covid lockdown. I use artistic mediums as a support for therapy. Art can be a very interesting way of expression for people going through difficulties or traumas, especially for people for whom language, words are hard to find to express a disease. I started to practice and I really love this job and approach. Even if It's not easy to be working with traumas and sadness, helping people to go through them with maybe more soft approach and it is kind of a mission that I do with a lot of engagement and passion.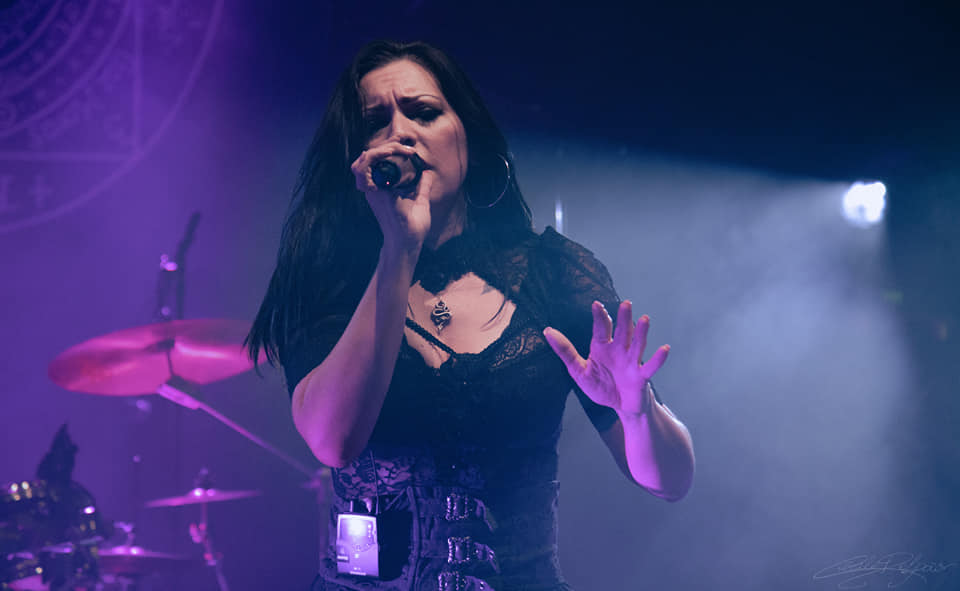 MG: Many metal frontwomen order stage outfits from designers. Do you have any plans to collaborate with designers too?
Emma: I never did yet because I love to customize my own outfits, but I would love to!

MG: Recently Morten has returned to work with Mortemia again and has already released many songs with various guest singers, both famous and unknown. Would you like to take part in such a project? And who would you like to hear as a guest singer in Mortemia?
Emma: I'm not sure if it would make sense to take part in it, as the Sirenia singer. I mean, Mortemia explores new directions and different colors/personalities/interpretations of singers, maybe it would sound too much like Sirenia with me.

MG: Have you discovered some new interesting music for yourself? If yes, can you tell us about it?
Emma: Not really very new but I'm exploring more and more progressive metal, which is probably becoming my favorite genre in metal now. I love the complexity of structures, the technicity and general spirit of it. I love to listen to Opeth, Dream Theater, Tool, Steven Wilson and Porcupine Tree for example. I am thinking more and more about joining a prog metal band in the future.
MG: And last, but not least, a couple of words to our readers?
Emma: We really hope you'll enjoy our new album, we miss you as hell guys!