German symphonic-metal band Coronatus may be considered as a phenomenon of the genre. The band manages to release their albums every 1-2 years still having the profound inspiration and following the whole conception. We were honored to have an interview with Carmen R. Lorch — a voice, composer and an integral part of Coronatus.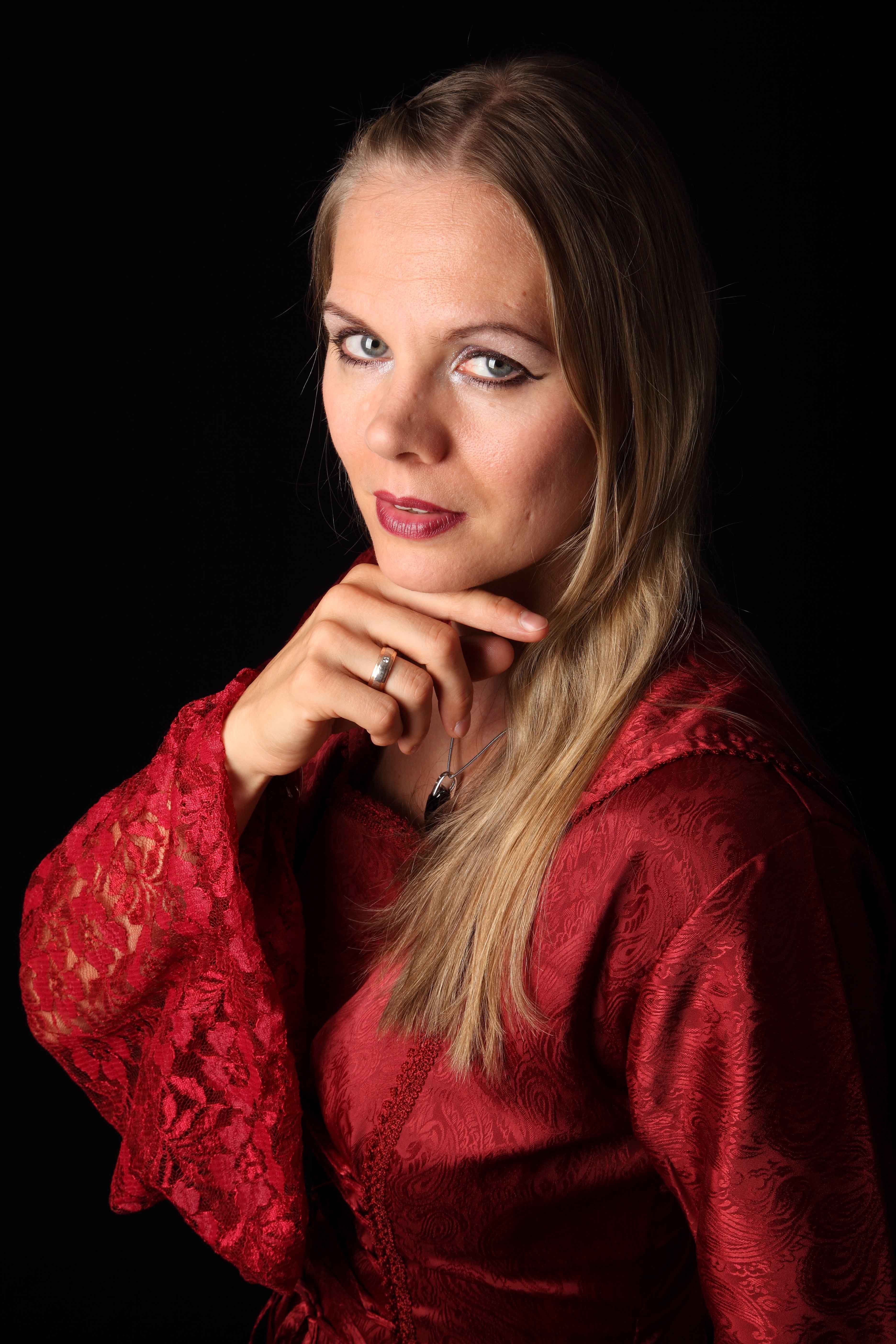 MG: Carmen, tell us please about your musical education: where and when did you learn singing and also playing guitar? Is education important for the vocalist (first of all in metal and non-operatic genres I mean)?
Carmen: All of my life I have made music: sang or played an instrument. As a child, I sang in choirs and learned easy instruments such as the recorder and keyboard. At the age of 14 I started taking singing lessons and guitar lessons. I have had singing lessons for many years, with several teachers, first private, then also at the music university.
If education is important for non-classical vocalists? I do not know any statistics about how many percent of the famous ones had singing lessons and how many are natural talents. If you want to know if you need singing lessons, then ask yourself the following questions: Are you happy with the way you sing? Does your throat feel good after singing? Are your fans happy with your singing? If yes, fine. On the other hand, also good-singing singers could surely still improve their voice with some lessons. Especially if you dream about becoming a professional singer and do not take lessons you will probably not be lucky. Furthermore, playing an instrument will be a big help. For studies at the music university piano playing is required.
MG: Where do you sing besides Coronatus? Do you take part in any classical performances, operas, etc.
Carmen: I am hired for private ceremonies like weddings, birthdays and most and favourite of all, funerals. Furthermore, I work as a singing teacher and I also teach groups of children aged 0-6 years in early music education. It is an honour for me that you think I could sing at the opera. But the good jobs there are for people who studied exactly opera singing and acting
MG: Could you please tell about your early metal projects such as Mighty D.? Why did you choose precisely metal and how did it all start?
Carmen: Metal was and is my favourite kind of music. Listening to metal and making music has mostly been one for me. After school, I looked for a band with a record deal and moved from Dresden to Stuttgart. With Mighty D. we had a deal with Iron Glory Records. I started as a guitarist there but I more and more desired to sing. On the album I sing some lines. Then I took more singing lessons, so I sound better on the Coronatus albums, where I could finally sing without guitar around my neck.
MG: How did you become a vocalist of Coronatus? Do you take part in the creative process when composing music for Coronatus albums?
Carmen: It was in a time when Facebook was not popular yet, haha, so I talked to people that I was looking for a new band as a singer. Those people told other people I did not even know. And some day Mats called me. That was it, in 2004. I was part of the creative process in Coronatus from 2004 until 2009, which means that some songs, lyrics, compositions on the albums "Lux Noctis", "Porta Obscura" and "Fabula Magna" are from me.
MG: As we know, you're not just a singer, but also a happy mother. And it's also known that woman's voice can change after birth of a child (it can become lower, higher, become more mature and so on). So how has your voice changed after your kids were born?
Carmen: In fact, my voice became more mature and a third lower, in the high as well as in the low range.
MG: What are your professional plans for the future? In what metal and classical projects do you dream to take part in?
Carmen: Oh, my dreams as a singer have been more than fulfilled. I have sung in bands for 20 years. I have participated in the same concerts together with my favourite artists, such as Within Temptation or David Garrett. Now I am already living a different dream: I live from music. The way that goes best together with my family is sharing my knowledge with other students. So I can take care about my children before they are big.
MG: And now some questions about the up-coming Coronatus album. Can you unveil any details about it: when can we expect it to be released? Why have you decided to invite Gaby Koss as a third vocalist for your album? What role will she have in your music?
Carmen: Gaby can give Coronatus more possibilities. I cannot explain more now, because the album is not recorded yet. In Germany we say, I cannot talk about unlaid eggs.
MG: As we know, the band releases new albums pretty often – every 1-2 years. How do you manage to raise money for that? Do you use crowdfunding or do the members of Coronatus contribute their personal money?
Carmen: The recordings are paid by our record company, Massacre Records. No crowdfunding.
MG: Does the band have plans for any serious promotion and active touring in Europe and other regions? How do you think, is it possible for Coronatus in the future?
Carmen: Of course any band dreams of that. Momentarily, we do not have a booking agency. But who knows what the future will bring.
MG: What's your favourite album of Coronatus and why? And may you please name some of your favourite songs.
Carmen: My favourite album is "Fabula Magna" because I was so much involved in the creative process, I put so much heart, soul and creativity in it. Especially in "Kristallklares Wasser" all the lyrics, melodies and choir compositions are from me. Also "Der Fluch" is very important for me. I wrote the lyrics and the choirs. The topic of the Flying Dutchman touched me very much, I am also a big fan of "Pirates Of The Caribbean". As a third song I would like to name "Flying By", especially the choirs and the emotional ending.
MG: As we know, you're a vocal coach. In your opinion, what qualities and skills a singer must have to be a good teacher for the beginners? Do you feel a responsibility for the results of your students?
Carmen: When my students advance, I am all happy after the lessons. To achieve such progresses, it is not enough to be able to sing as a teacher, but also an education as a singing teacher is very important. A singing teacher should have a certificate of his education and should always be able to tell the student what technical aspect they are just working on. For those, singing songs is not enough, but in singing lessons it is also usual to practice technical singing exercises.
MG: Carmen, who do you consider to be the coolest female vocalist in metal? What about the voices in metal (and in other music genres) you personally like the most?
Carmen: It will not be a surprise for you that I listened to Nightwish with Tarja Turunen very much. Maybe I like Helena Michaelsen even more, she can do anything with her voice, classical and rock vocals. Besides metal, I love the voice of Whitney Houston. But always consider that there are many good singers out there that we might not know.
MG: Can you tell us about your family, your hobbies? What do you fill your leisure time with?
Carmen: I love spending time with my children, my afternoons belong to them. Family and music, this is my profession, my hobby, my passion.
MG: Do you like reading? If you do, could you recommend a book to your fans to read? (And also if you do, what's the most inspiring novel / story you have ever read?)
Carmen: I have also read novels, but in the last few years I have only read specialist literature for music and singing education. Sorry, I think I am quite a straight person.
MG: As for your fans, do you have any opportunity to communicate with them? Maybe you know, you have a very devoted fans here in Russia.
Carmen: Nice to hear that. On the Coronatus facebook site you can read everything that is important to know for public.
Thank you, Carmen, for your time and good luck!